Surveying - Ningxia No.1 Cloud Computing Base of Hotwon
Surveying — Phase IV
Recently, People in China IDC Industry came to the fourth surveying and investigating site, Ningxia No.1 Cloud Computing Base of Hotwon located in Zhongwei City, Ningxia.
In recent years, with the fast changes in cloud computing, big data, artificial intelligence and other technologies, IDC industry has developed rapidly. In the first year of the 14th Five-Year Plan, IDC will become the key industry to be developed. For better understanding of the data center construction and planning, 2021 National Excellent IDCs Lighting Plan (hereinafter referred to as the Lighting Plan) with the theme of "Focusing on excellent IDCs & Presenting fundamental strength of data", led by China IDC Circle, was officially launched. A number of representative excellent IDCs are selected in the Lighting Plan to show their overall development journey during the field visits in all aspects, including data center planning, construction and operation and show their core competitiveness, which will further expand the industry influence of enterprises and enhance the brand awareness.
In the Lighting Plan of this year, we came to Ningxia No.1 Cloud Computing Base of Hotwon located in Ningxia Mobile Park of Zhongwei West Cloud Base and visited the container computer room project (hereinafter referred to as Ningxia No.1) constructed by Hotwon and Ningxia Mobile. Zhu Bin, Project Manager of Ningxia Mobile, and Wang Daoyan, O&M Manager of Hotwon, were interviewed.
Overview of enterprises and IDCs
China Mobile Communications Group Ningxia Co., Ltd. ("Ningxia Mobile") is a wholly-owned subsidiary of China Mobile Limited in Ningxia. Ningxia Mobile, gradually growing in the process of economic take-off in western China, is the backbone of Ningxia's social information construction. With the comprehensive communication capability of wide network coverage, high-quality communication, rich business categories and first-class service, Ningxia Mobile has benefited thousands of homes.
Hotwon Group is a leading provider of data center solution and implementer of sustainable data ecosystem in China, mainly engaged in offering high-quality IT infrastructure, network communication, cloud computing application services and one-stop multi-regional resource services to government and enterprise clients, and helping them construct big data, cloud applications, information technology application, government affairs and industry clouds and other projects and platforms.
In order to comprehensively and deeply promote the digital transformation in northwest China and drive the construction of "Digital Northwest" project, Hotwon Group and Ningxia Mobile have reached the strategic cooperation to jointly build Ningxia No.1 cloud computing base, which presents the concerted efforts to contribute to the development of IDC industry and comprehensively promotes the digital transformation in northwest China.
Ningxia No.1 is located in the West Cloud Base in Zhongwei, Ningxia. According to the specification in Grade A of GB 50174, Ningxia No.1 is constructed with 800 computer cabinets in container type. The container-type construction can shorten the construction period from 1~2 years to 1~2 months, be capable of rapid delivery, meet the needs of customers for fast business online, and monitor the servers, computer cabinets, micro-modules and infrastructure in all round. The project took only 86 days to deliver the first batch since the organization of construction and mobilization, which presents rare achievement in the delivery of such a complex IDC in the domestic IDC industry.
"Computing of Eastern Data in Western Areas", developing the backbone node in west China
Ningxia No.1 is of great strategic significance for Ningxia Mobile and Hotwon. With a number of policy documents introduced this year such as National Integrated Big Data Center Collaborative Innovation System Computing Hub Implementation Plan, the state gradually guides the data center to develop in green and intensive, independent and innovative, secure and reliable way with overall planning strengthened.
Zhongwei, as the key city of "Computing of Eastern Data in Western Areas" project and the construction of national integrated big data center collaborative innovation system, has become the hub of deploying data centers, which has been echoed with many IDC operators. In Zhu Bin's view, China Mobile's IDC layout in Zhongwei is not only a response to the national call of "Computing of Eastern Data in Western Areas", but also be beneficial to China Mobile in fully utilizing local resources and policy advantages to improve the IDC industry layout in China. At the same time, Ningxia Mobile explores the low-cost operation path to promote green electricity and carbon offset, seeking the 'zero carbon' path through full life-cycle fine energy saving.
It is worth noting that although Ningxia No. 1 is located in the "digital desert" of the western area, "Currently the time delay from Ningxia No. 1 to the major cities in China can be less than 10 milliseconds. With the completion of Ningxia No. 1, China Mobile has promoted Zhongwei's regional network node as the backbone node and constructed 70% of the region's Internet outlet bandwidth and direct transmission links to 22 major cities nationwide. After testing and customers' feedback, for the purpose of network, Ningxia No. 1 has been consistent with the requirements of the main data centers in the eastern region, eliminated the network disadvantages, and been providing a new information infrastructure with integrated services, taking the computing as the focus and network as the foundation." Zhu Bin stressed.
At the same time, according to the different needs of customers, the park is reasonably planned in combination with container-type engineering and traditional civil engineering, which makes it available to meet different business needs of customers and strive to build the first large-scale supercomputing data center in northwest China. The Park actively undertake the nationwide demand for non-real-time computing, including background processing, off-line analysis, storage and backup, and build a nationwide non-real-time computing support base to promote the development of network nodes in western area.
Ningxia No.1 Cloud Computing Base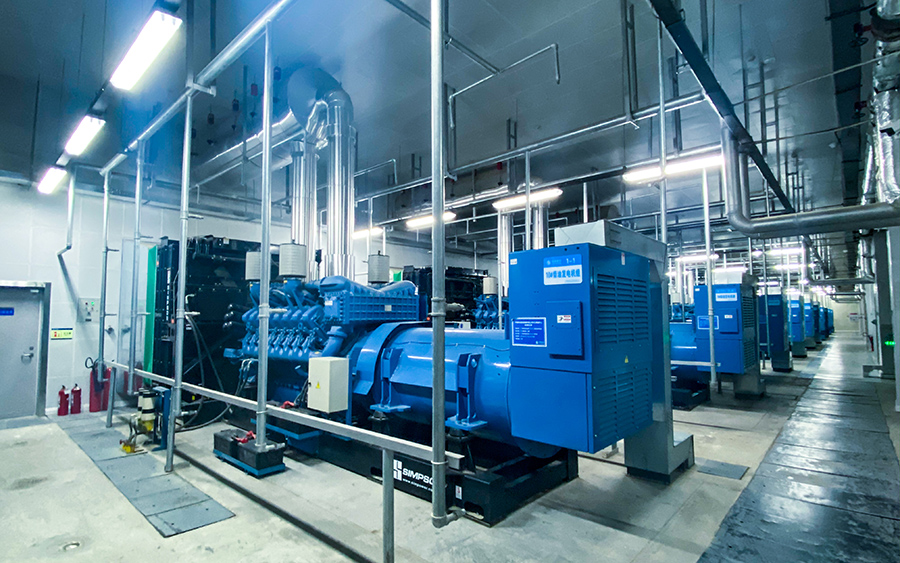 Diesel generator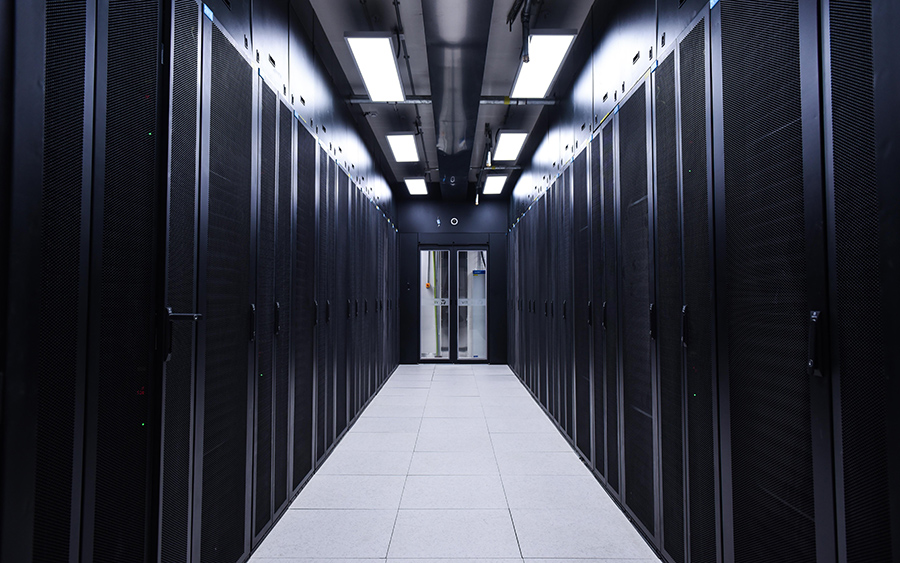 IDC - computer room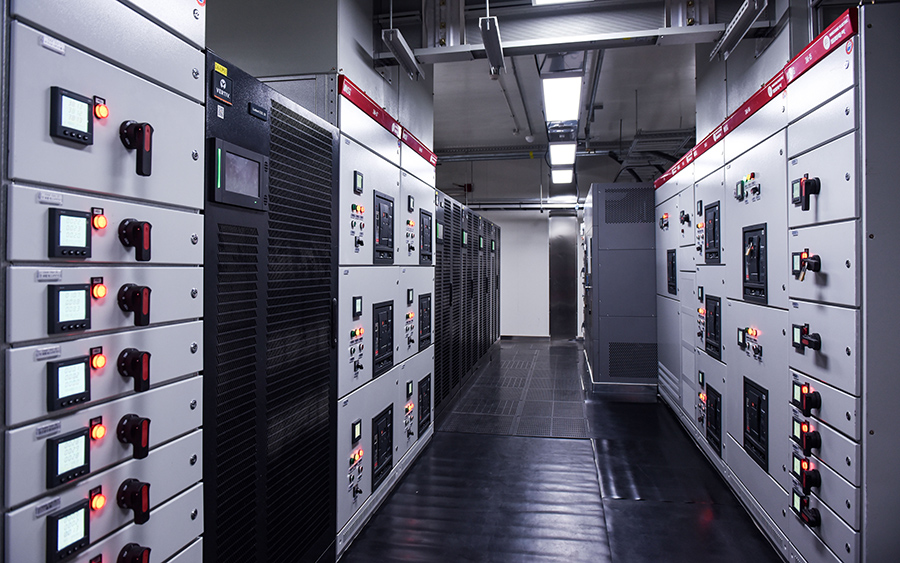 Power distribution room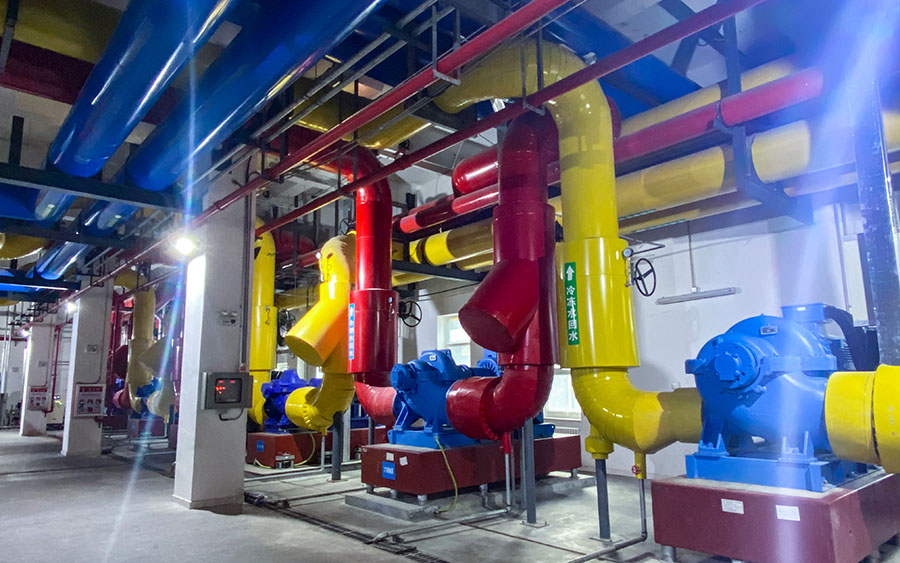 Water cooling equipment
Fire-fighting equipment
Thermal energy storage tank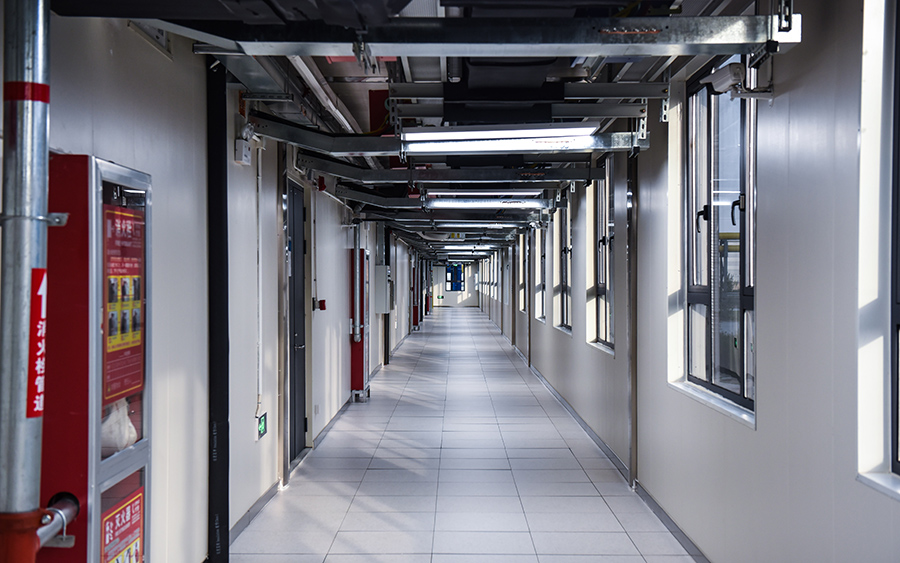 Corridor
Water cooling equipment
Though the extremely short delivery period of Ningxia No.1, the quality is retained invariably. According to Wang Daoyan, the IDC is built according to computer room standard of Grade A. It is worth noting that besides short delivery period, the container-type construction sees the advantage of green development, which echoes with China's "double carbon" (carbon peaking and carbon neutrality) strategic goal. "Ningxia No.1 has been rated as a national green building and adopted green electricity as well." Wang Daoyan said.
At present, Ningxia No.1's customers are mainly involved in BAT, industrial Internet, finance, government agencies and manufacturing industry. "Hotwon can provide customers with three major business services, i.e., cloud base investment and construction, value-added telecom service and cloud platform service. Currently, Internet users are still the main customer groups." Wang Daoyan said.
Build a green data center in multiple aspects
As we all know, IDC industry is energy-intensive. Under the background of "double carbon" goal, carbon neutrality in IDCs has become the focus of the whole IDC industry. Energy saving and emission reduction of data center should take various aspects into account, including site selection, design, civil engineering, application of energy saving technology, purchase of green electricity and green electricity certificate, O&M, etc.
For site selection:
Zhongwei is geologically stable, not located in the earthquake zone. With the location in the northwest, the annual average temperature is only about 20°C, which is a "fertile ground" for building data centers. Zhu Bin said that the working time of Ningxia No.1 chiller is about three months, which greatly reduces the energy consumption for cooling in the data center.
For design:
The data center is built in container-type, which is reproducible with easy expansion, and can monitor servers, cabinets, micro-modules and infrastructure in all round, which compresses the construction and deployment period, reduces the carbon emission during the construction process, and achieves the purpose of energy saving and emission reduction.
At the same time, Ningxia No.1 adopts water-cooled cooling mode. Under normal working conditions, "except for the hot days in summer, cold water is used to reduce the temperature at night, and frozen water is circulated during the day to achieve the purpose of energy saving and emission reduction." Zhu Bin said. According to the reporter's observation, on the north side of the data center, there is photovoltaic power generation equipment covering a large area. As it is located at a relatively high altitude and has sufficient light, the application of green electricity in the data center accounts for a relatively high proportion. In Wang Daoyan's view, in the "double carbon" era, the data center will develop in the direction of green energy saving, and energy saving and consumption reduction will become the main theme of the industry. "As the leading enterprise of IDC industry, Hotwon will devote to the "double carbon" strategic goal from all aspects of IDC full life-cycle design, construction, O&M and the group itself." Wang Daoyan stressed.
It is worth noting that Ningxia No.1 can realize the intelligence and visualization of O&M management at the data center O&M level. At the same time, it has established a sound energy consumption and PUE management system. The O&M team has deeply engaged in the IDC full life-cycle, such as scientific research, planning and design, engineering construction, verification and testing, operation and maintenance, renovation and renewal, scrapping and renewal. Hotwon has formed a unique O&M concept based on years of data center operation experience. Ningxia No.1 is equipped with more than 20 experienced O&M personnel to ensure front-line O&M work. "The O&M team is responsible for internal audit, early access, management and review during the O&M process, etc., further to ensure that customers can be provided with safe and reliable O&M services in the IDC full life-cycle." Wang Daoyan said.
Ningxia No.1 is the important node in the layout of Ningxia Mobile and Hotwon among domestic IDCs. For Zhongwei and even the whole western region, it is an important link in the process of promoting the digital transformation in the northwest region, bridging the digital gap in the west and developing the digital construction in the northwest region.