HOTWON was Successfully Selected as "Little giants"
On December 16th, Guangzhou Municipal Industry and Information Technology Bureau publicized the information input list of "three batches" enterprises (the fifth batch), which consists of the "little giants" (two highs and four news, which refers to the enterprises with high technology, high growth, new industry, new business forms and new pattern) at the municipal level, and Hotwon Group was successfully selected and added into the database with its excellent comprehensive strength.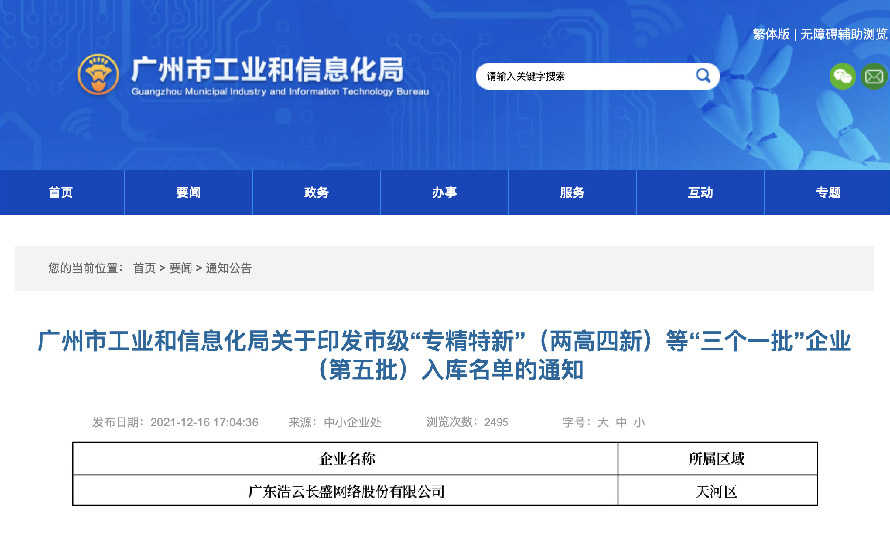 Hotwon Group has been established for eight years, mainly engaged in offering high-quality IT infrastructure, network communication, cloud computing application services and one-stop multi-regional resource services to government and enterprise clients, and helping them construct big data, cloud applications, information technology application, government affairs and industry clouds and other projects and platforms. In the future, the Group will make continuous efforts to strengthen technological innovation and contribute to the development of industry, society and even the country.
"Three batches" is a powerful measure for Guangzhou to implement the "Manufacturing 2025 Strategic Plan", to expand and consolidate a number of leading firms, to promote the efficiency and quality of one batch two highs and four innovations enterprises, to cultivate and strengthen a number of industrial companies with annual revenue of more than 20 million yuan that upgraded from small and micro enterprises.
"Little giants" (two highs and four news) refers to enterprises with high technology, high growth, new industry, new business forms and new pattern, whose main business and development focus are in line with national industrial policies and related requirements, have strong technological innovation and financing ability, owning good development speed, benefit and quality, and taking the road of specialization, refinement, specialization and innovation.
It is reported that this "three batches" enterprise information input screening adopts the combination of enterprise self-recommendation and district-level recommendation, and the expert team conducts professional evaluation. After strict assessment of various indicators, it was confirmed that Hotwon Group met the requirements and was successfully added into the database, which was highly recognized and affirmed by the government and expert team for Hotwon's comprehensive strength.