Low-carbon Practice and High-quality Development | Hotwon Group Attends IDCC2021 (Shanghai)
On October 13th, the 16th China IDC Industry Annual Ceremony (Shanghai) (hereinafter referred to as "IDCC2021 (Shanghai)"), sponsored by China IDC Industry Annual Ceremony Organizing Committee and hosted by China IDC Circle, was grandly held in Shanghai Wanda Reign Hotel. Hotwon was invited to attend the conference. At the conference, Mr. Yang Jun, the Assistant of Hotwon Group Chairman, participated in the high-end conversation of low-carbon practice of data center under the new policy, shared Hotwon's low-carbon practice in data center and discussed the low-carbon development path of data center from various angles such as policy, industry, capital and energy supply with all the participants.
As a "high-energy-consuming" industry, data center is the most important key link for digital industry to achieve the goal of "double carbon". Under the strategic goal of "double-carbon", how to realize the low-carbon and green development of data center industry and improve the energy-saving level has become a hot topic of the industry.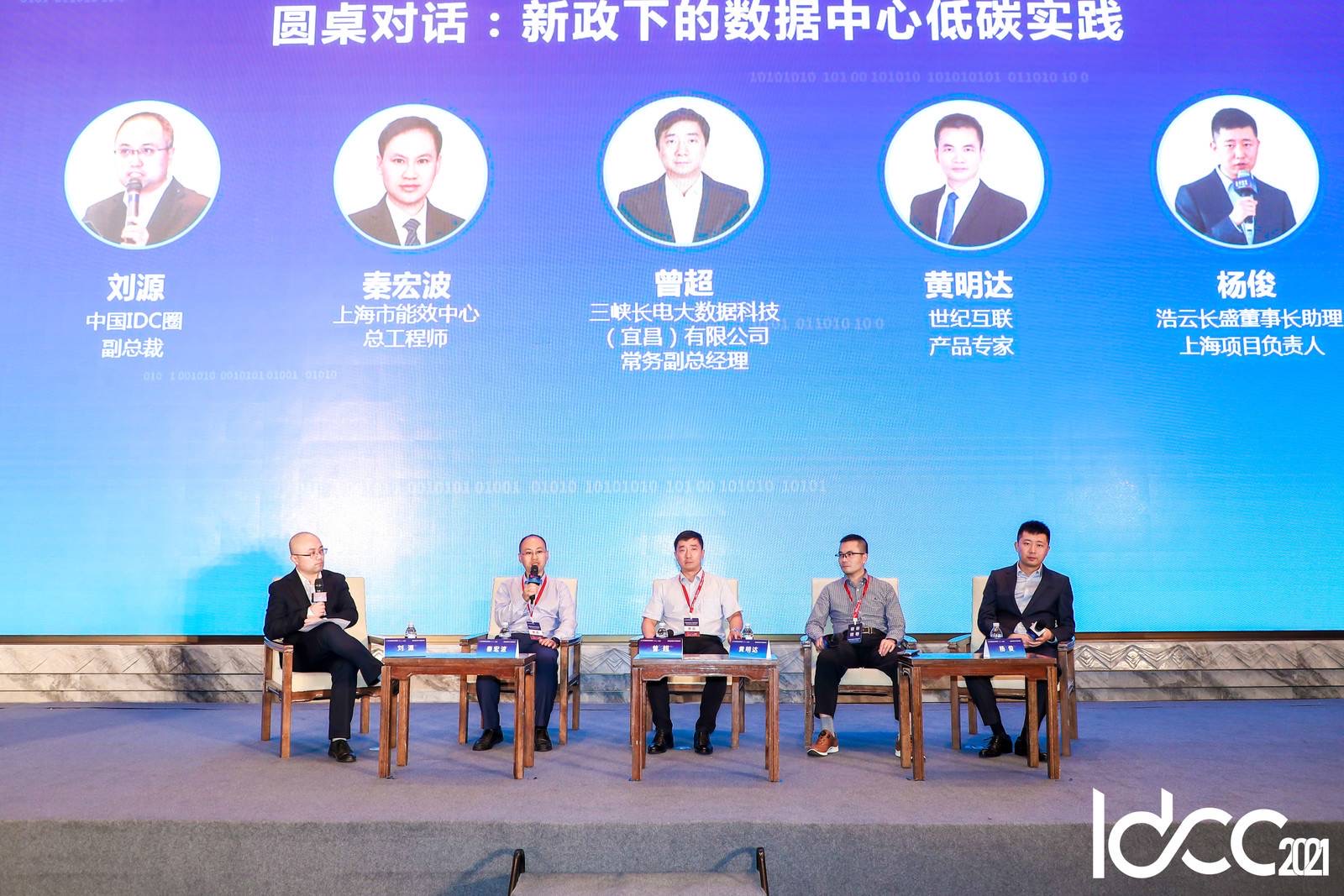 High-end Conversation
Hotwon, as the implementer of the sustainable data ecosystem, insisted on building a greener, smarter and safer data ecosystem and actively practiced the "double carbon" strategy. Mr. Yang Jun shared it from the perspective of data center design, construction, and the whole life cycle of operation and maintenance: Design, plan and design data centers according to the green concept and innovate technologies, and adopt advanced technologies to reduce operation energy consumption; Construction, accurately select site, through combining with location characteristics, choose to build data centers in areas rich in renewable energy; Operation and Maintenance, realize intelligent and visual operation and maintenance management, perfect energy consumption and PUE management, establish and improve the on-site management system and structure of operation and maintenance, and innovate the management mode of operation and maintenance team, etc., so as to continuously move forward to realize the national strategic goal of "double carbon" at an early date.
Mr. Yang Jun
At the conference, Mr. Yang Jun also shared the innovative practice of the Group in "improving energy efficiency": Guangzhou No.2 Cloud Computing Base adopted cooling plate liquid cooling technology on a large scale; The project in Beijing adopts waste heat recovery technology, which recovers the waste heat of the data center to supply heat to the scientific research office in the whole park, greatly reducing the heating cost, etc.
Low-carbon practice and high-quality development. Hotwon will continue to actively implement the "double carbon" strategy with more actions, help the high-quality development of China's data center industry, and work together to open a low-carbon future.