Move forward together, share integration | Hotwon and Guangdong Telecom have reached strategic cooperation
On the afternoon of May 17th, Conference of Guangdong Telecom Cloud-network Integration 2.0 was held in Guangzhou. HOTWONHotwon, as an eco-strategic partner of China Telecom Guangdong Company (hereinafter referred to as "Guangdong Telecom"), was invited to attend this conference. With the theme of "Intelligently Connected Cloud-network, Up to Guangdong Limit", the four capabilities of Guangdong Telecom's cloud-network integration were released in the conference, and the comprehensive solution of which 5G cloud-network serves based on demand was vigorously launched.
Conference Scene
HOTWONHotwon signed a strategic cooperation framework agreement with Guangdong Telecom at the conference site. The two parties are information business partners, and are engaged in multiaspect and in-depth cooperation around further improving the information level of respective government and enterprises.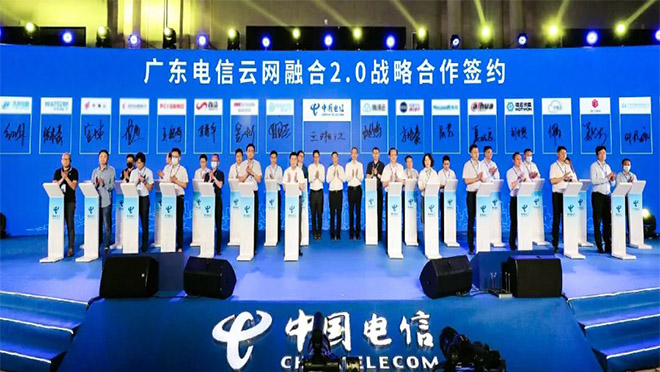 Signing of ecological partners strategic
Move forward together, share integration together. In order to better serve customers and give full play to the advantages of both sides, HOTWONHotwon will focus on the strategic cooperation content, implement the cooperation between the data center in Guangdong-Hong Kong-Macao Greater Bay Area and Guangdong Telecom, strengthen the communication and cooperation of related businesses, and cooperate with industrial chain partners to build an ecological cloud-network integration, promote the digital development in Guangdong, Hong Kong and Macao, and create a digital China together.