Realize Our Goal Together by Cloud Technology | Hotwon Group Equity Financing and Brand New Launch Conference
On the afternoon of December 15th, Hotwon Group's equity financing and brand-new launch conference was held in Beijing Four Seasons Hotel. Over 400 representatives including Mr. Liu Haifeng, Chairman of DCP Capital, Mr. Zhang Yinghao, Managing Director of CPE, Mr. Huang Zhaoshun, Chairman of Hotwon Group, Mr. Liu Li'ao, President of Hotwon Group, Mr. Deng Zhixiang, CEO, representatives of operators and partners attended the conference to witness this glorious moment with Hotwon!
Realize Our Goal Together by Cloud Technology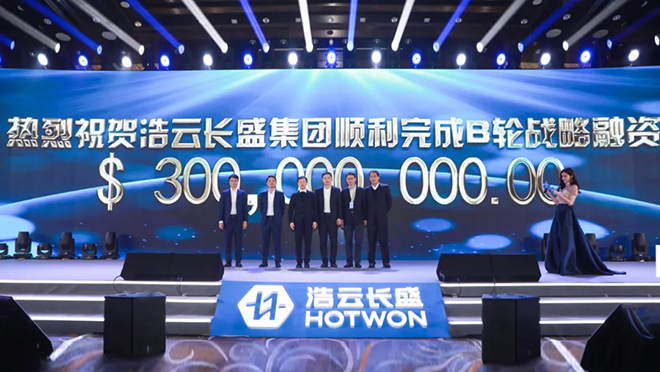 Conference site
At the meeting, CEO Deng Zhixiang solemnly announced that the Group had successfully completed the equity financing with a total amount of USD 300 million, and immediately launched a brand-new image. In future, the Group will work together with large investment institutions such as DCP Capital (DCP) and CPE to further increase investment in Internet infrastructure including data centers, thus continuously consolidating the competitive advantage of Hotwon in core cities. In addition, it will expand business scale nationwide and continuously optimize the ecology of upstream and downstream industrial chains of the Group.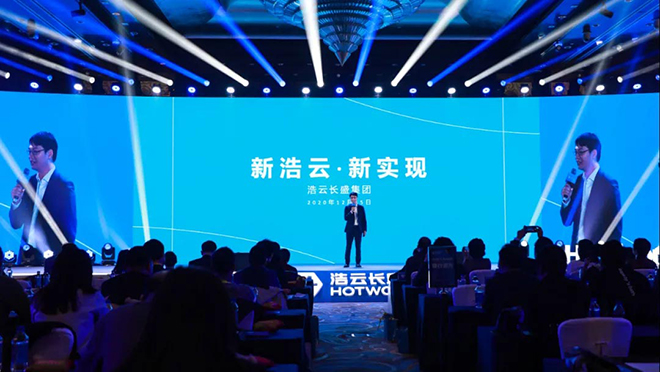 Remarks by Mr. Deng Zhixiang
This year, guided by national policies such as digital economy, "new infrastructure" and driven by the rapid development of cloud computing, Internet, Internet of Things and big data, the operating income and market scale of data centers in China have shown a rapid growth trend in recent years. As the representative of new infrastructure information infrastructure, data center has entered a brand-new development stage under the double traction of national policies and market demand. Hotwon is willing to form a closer strategic cooperation relationship with its partners and work hard to build a more reliable, greener and smarter digital economic infrastructure.
Mr. Liu Haifeng, a well-known investor and chairman of DCP Capital, said that they were very happy to reach a strategic cooperation with Hotwon. Hotwon has a strong management team who develops a strategic vision of focusing on data centers and can act pragmatically. As the data center industry is ushered in a historic development opportunity period, in the future, we will work closely with Hotwon's excellent management team, give full play to DCP Capital's operation management expertise, resource network advantages and M&A experience to help Hotwon further consolidate its market position and achieve long-term and stable development.
China Petroleum Engineering Corp., Ltd. (hereinafter referred to as "CPE") is the A-round strategic investment institution of Hotwon. This time it participated in equity financing, and further increased its capital investment in Hotwon, demonstrating high recognition for Hotwon team and its operating performance from CPE's shareholders and investors. Mr. Zhang Yinghao, managing director of CPE, said in his remarks that since the first round of financing in 2018, Hotwon had launched the "Nebula Plan". He said, "in just two years, Hotwon had developed from a regional IDC service provider to a large-scale national IT infrastructure service provider, rapidly deploying dozens of major investment projects in core cities, and reaching sustained and long-term cooperation with many corporate customers. Hotwon team can keenly discover and explore business opportunities, be brave in opening up markets, make decisions quickly and implement them boldly. Meanwhile, the company also pays attention to personnel training and accumulation of technical force. In Hotwon, we see the team's ability and efforts, and we hope that in the future, the company can further develop into the leader of IDC industry in China and even in the Asia-Pacific region!"
Mr. Huang Zhaoshun, Chairman of Hotwon, in his remarks fully thanked the group shareholders, partners, operators and customers for their trust and support to the Group and the team. He said, "everyone's recognition is our driving force, and having a young and highly executed team is our advantage. The Group will certainly live up to expectations, achieve every goal in a down-to-earth manner, and become a trustworthy partner of everyone, so as to promote the healthy and long-term development of China's digital industry!"
Work together to draw a blueprint
Forum session
Forge ahead just in time with drawn blueprint. Mr. Liu Li'ao, President of the Group, together with Mr. Wang Jing, Vice President and Architect, Mr. Huang Xiaoying, Vice President of Resources, Mr. Zhu Hongbing, General Manager of O&M, and Mr. Jiang Shuiqing, Vice President of Cloud Business, respectively elaborated the future development of new infrastructure industry in data centers as well as the pain points and bottlenecks faced by the industry from different dimensions, enabling the guests to get valuable information from industry technical experts.
He said, "under the vast universe, we gather the passion, courage, foresight and insight of the implementers, and keep forging ahead with the spirit of "innovation and far-reaching realization possible"; we believe that every strategic investment is the recognition of the group by investors, and every delivery is the realization of the commitment to customers. Thanks to this golden era, we have met more partners who are interested in working together for China's Internet industry. The road ahead is full of ups and downs, but we will still make every effort to achieve the vast progress in the data age. We are Hotwon Group, the implementer of the sustainable data ecosystem!"